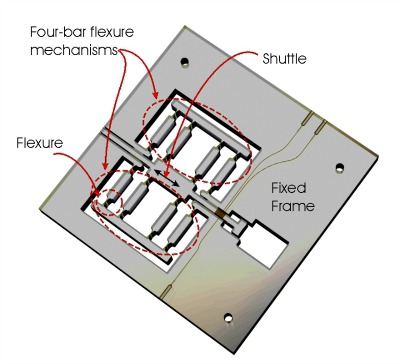 High-precision linear translation stage based on double-compound kinematic designHigh-precision linear translation stages frequently rely on flexures to provide translation without friction or stiction. The flexure mechanism greatly improves positioning and resolution when compared to similar stages made using bearings. In addition, with the proper flexure layout, linearity of motion can be achieved over the whole travel range. (The translation stages fabricated to date have a maximum translation range of 1.5 mm. A longer translation range can be obtained through simple scaling of the design.)
Even higher performances can be obtained using Translume's linear stages made from fused silica monoliths. In our metrology-grade flexure-based linear stage, the translation of the shuttle (i.e. the moving platform) is controlled by the elastic deformation (flexing) of two identical four-bar mechanisms, serially connected to the surrounding mechanical frame via sixteen notch flexures. This double-compound kinematic design is well-known in precision engineering. The use of two symmetrical four-bar mechanisms offers an additional advantage, in which the system will self-compensate for thermal-expansion.
Note that the flexures are not bolted or bonded to the moving shuttle and the surrounding mechanical frame, but rather, they are an integrand part of a single unit: The full device, including the stationary frame, the moving shuttle, and the flexure element, is monolithic. This approach provides superb long-term performance.
In addition, on some demonstrators, we have also incorporated an optical system that senses the stage position. This displacement-sensing system consists of a fiber-coupled light source (LED), fiber-coupled photodetector, an array of closely-spaced optical waveguides embedded in the moving platform, and two or more waveguides embedded in the stationary frame. The optical signal travels along successive waveguide segments from an input port located in the mechanical frame, through the waveguide array located in the moving platform, and onto an output port also located in the mechanical frame. Displacement of the platform with respect to the moving frame results in a modulation of the optical signal, from which the platform position may be inferred.

Position sensing system – A series of simulations showing the optical signal propagation as the platform moved progressively. The horizontal black lines indicate the free space gaps between the fixed frame and the shuttle. In the left most schematic, the optical throughput is maximized as there is a complete alignment of the input waveguide situated in the fixed frame, one of the waveguides in shuttle, and the output waveguide situated in the fixed frame. In the center schematic, the shuttle has moved to the left and there is no more waveguiding through the central section (shuttle). Some input light still reached the output waveguide through free-space propagation. In the right most schematic, the shuttle has moved some more to the left. A second shuttle waveguide is appearing on the right. Some input light side-couples to this waveguide, which further reduces coupling to the output waveguide.