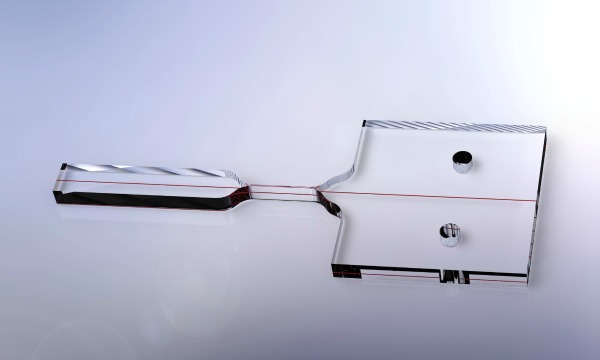 Flexure at rest: In this CAD model, the optical waveguide (shown in
We previously spoke (although others may say that we even "bragged") about our unique capability to fabricate robust flexures made out of fused silica. Many have already discovered that fused silica flexures, with their near-zero coefficient of thermal expansion, and their near-perfect elastic behavior, provide exceptional advantages in demanding metrology applications [See for example 1]. Engineers that specialize in precision applications, undoubtedly and readily, appreciate these unique material characteristics.
In contrast, there is another fused silica material characteristic, which has not yet been taken advantage of in the design of precision flexures: unlike any other material used to fabricate high-quality flexures, fused silica is transparent. This can be exploited to combine mechanical and optical functionalities. To illustrate this intriguing combination, we recently fabricated a fused silica flexure with an integrated optical waveguide. As shown in the side drawing, the waveguide is located at the geometrical center of the flexure (side-to side, and along the vertical axis).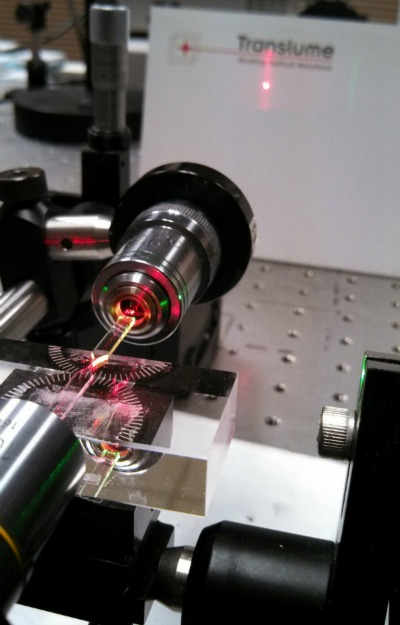 Test flexure with waveguideIn our tests, the incoming red light was injected into the waveguide using a microscope objective (alternatively an optical fiber could be coupled to the waveguide input). The output light was collimated using a second microscope objective.
The flexure was pushed out of its rest position using a hand-held actuator and then let free to return back to its original position. Typically, the flexure vibrated for many seconds before coming to a full stop; the decay period would be much longer in an air-evacuated environment.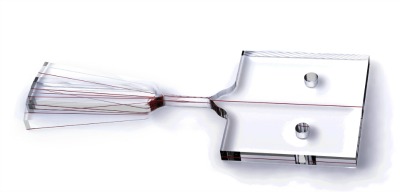 CAD modeling of a flexure vibrating over a +- 10 degree range: In this CAD model, the optical waveguide (shown in red) is oversized for clarity.
The optical waveguide followed the motion of the tip of the flexure, pointing in different directions as the flexure bent back and forth, but its guiding characteristic was unaffected by the flexure motion: At no point does the waveguiding effect disappear or even weaken, as seen on the accompanying video.
Top view of a fused silica flexure with waveguide under test. The flexure is excited manually and vibrates at a few hundred hertz. The motion of the flexure tip is too fast to be fully resolved by the camera.

A fused silica flexure with waveguide under test. The optical waveguide output (red) is focused by a microscope objective onto a distant white target. The beam scans back and forth as long as the flexure vibrates.
Of course the waveguide does not have to be located at the geometrical center of the flexure and more than one waveguide or waveguide-combination may be created within the flexure.
References:
"Self-calibrating optomechanical accelerometer with high sensitivity over 10 kHz" Felipe Guzman Cervantesy, Lee Kumanchik, Jon Pratt, and Jacob M. Taylor. arXiv:1303.1188v2 [physics.optics] 10 Oct 2013